SAVE THE WINERY SALE!
​
​
10% OFF 1-5 BOTTLES
​
15% OFF 6-11 BOTTLES
​
20% OFF A CASE (12 BOTTLES)
​
MIXED CASES ARE ALLOWED
Call 253-851-4949 to place your order and pay over the phone. Your receipt will be emailed to you. Let us know if you when you would like to pickup your wine.
Out of state folks, we can ship to most states. Give us a call and we can give you a price for shipping based on your order.
​
THANK YOU FOR SUPPORTING
SMALL BUSINESS!!
​
STAY SAFE AND HEALTHY!!
​
​
Gov. Jay Inslee today (3/16/2020) announced an emergency proclamation that mandates the temporary closing of restaurants, bars, entertainment and recreational facilities, as well as additional limits on large gatherings.
​
How this affects our winery:
​
Wineries and tasting rooms must be closed for in-person tastings and events.

Wine to-go sales and pick-ups from wineries/tasting rooms are still permitted.

These restrictions go into effect at midnight tonight and will last through April 30, and possibly longer.
​
WE ARE ALLOWED TO SELL WINE
"TO-GO" BY THE BOTTLE FROM OUR TASTING ROOM.
IF YOU WOULD LIKE TO PURCHASE WINE, PLEASE STOP BY DURING OUR REGULAR TASTING ROOM HOURS. IF YOU WOULD LIKE TO CALL YOUR ORDER IN FIRST AND PAY BY PHONE, WE CAN THEN BRING YOUR ORDER OUT TO YOUR CAR.
253-851-4949
​
THANK YOU FOR YOUR SUPPORT!
​
Indoor Loft Concerts are cancelled until further notice.
Join us for our "intimate" indoor concerts in The Loft starting this Friday, September 27th, 2019 and running through May 31, 2020. Tickets are $10 per person cover charge. A limited amount of tickets will be available to purchase online under "Events". Join us for these up close and personal, super fantastic acoustical concerts. We have a fantastic lineup of talented artists scheduled for this season! Don't miss out!
Outside food NOT allowed - Must be 21+ years of age - No pets allowed
Public Events
Throughout the year, we plan to host live music on Friday nights featuring local artists and musicians. Check our Calendar of Events or Happenings in the Vineyard for more information or click on the "more" button below.
Our Philosophy
Our philosophy is to keep our wines as clean and natural as possible, with minimal interference in the wine making process. Aligned with our philosophy, we use beautiful, handmade Italian clay amphorae for our grape fermentation. This "renaissance" approach may be gaining traction within the wine making industry, an industry in which we are excited to be a part.
Private Functions
The Olalla Vineyard & Winery is available for private outdoor and indoor functions and events. Contact us at to inquire.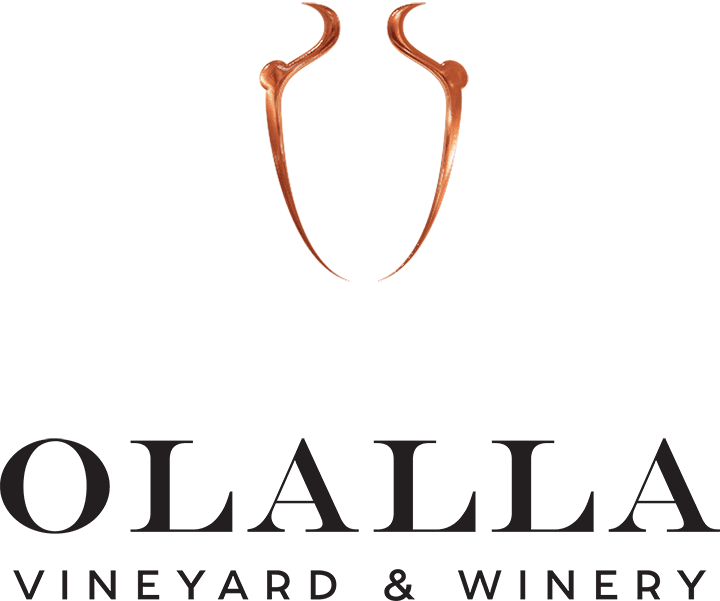 Tasting Room Hours*
tastings are cancelled until further notice.
Wednesday, Thursday, and Saturday 12-6PM
Sunday 1-5pm
Fridays 3-9PM live music in the vineyard or the loft typically from 6:30-8:30pm. be sure to check each event for performance times.
Tastings on Fridays are from 3-5PM
Closed Monday and Tuesday
The Tasting Room will be closed during pre-booked private functions and events. Check our Calendar of Events for current information.
​
TOURS BY APPOINTMENT ONLY (PURCHASE OF WINE IS APPRECIATED)