COVID-19 UPDATE
​
Now that Kitsap County is officially in Phase 2, we are now able to open with

limited capacity

.

Parties of five or less

can come by to do tastings or enjoy a glass of wine. We have implemented all recommended safety regulations plus a few of our own. Because of limited space indoors, most tastings will be done outdoors. Thank you for your support and please have patience as we work through this "new normal" that we find ourselves in.
Cheers!
THANK YOU FOR SUPPORTING
SMALL BUSINESS!!
​
STAY SAFE AND HEALTHY!!
​
2018 Rosé - Columbia Valley - A subdued pink hue with notes of ripe strawberry, orange, hibiscus and a hint of allspice. Moderately high acidity, but surprisingly dry on the tongue. Serve cold to keep it zesty. Perfect pairing with this wine would be takeout Greek Gyros with dill tzatziki. $20/bottle

2018 Pinot Gris - Lake Chelan - Almond, clove, and faint honeyed aromas dancing with delicate floral notes of honeysuckle. The Meyer lemony citrus flavor offers a refreshing acidity and a weighty feeling on the middle of your tongue. With saline-like minerality, this Pinot Gris is intoxicating and it fills the mouth with flavor. This Pinot Gris with its zesty acidity pairs really well with fresh vegetables, raw fish and lighter meals. Fish and shellfish are classic pairing partners. Best served at 45 degrees. $15/bottle

2017 Sangiovese - Ancient Lakes of Columbia Valley -Light to medium bodied with savory flavors of tart cherries, plum and black stone fruit. Secondary notes of tomato leaf and dried herbs such as oregano and thyme. Medium to high acidity with balanced tannins. Food pairing ideas: Rich roasted meat, cured sausages and hard cheeses as well as tomato-based dishes such as red sauce pasta or chicken parmesan. $35/bottle

2017 Malbec - Ancient Lakes of Columbia Valley - Rich and expansive on the tongue, this well-balanced Malbec offers inviting notes of plum, completely juicy, around silky tannins and balanced acidity. Dark plums, dried Bing Cherries, ripe Figs, earthy aromas of fresh cigar, and cracked black pepper. Although built to age, this wine is concentrated and smooth. Enjoy through 2022–2026. $35/bottle

2016 Syrah - Ancient Lakes of Columbia Valley - Supple and ripe tannins combined with ample fruit aromas. Medium-bodied, spicy, rich and balanced with polished tannins. Notes of coffee, dark cocoa, violets, ripe plum and fig. Medium-soft mouthfeel, chocolate, plum, blueberry and baking spice. For pairing, try polenta with sautéed mushrooms and fresh herbs. $35/bottle
Public Events
Throughout the year, we plan to host live music on Friday nights featuring local artists and musicians. Check our Calendar of Events or Happenings in the Vineyard for more information or click on the "more" button below.
Our Philosophy
Our philosophy is to keep our wines as clean and natural as possible, with minimal interference in the wine making process. Aligned with our philosophy, we use beautiful, handmade Italian clay amphorae for our grape fermentation. This "renaissance" approach may be gaining traction within the wine making industry, an industry in which we are excited to be a part.
Private Functions
The Olalla Vineyard & Winery is available for private outdoor and indoor functions and events. Contact us at to inquire.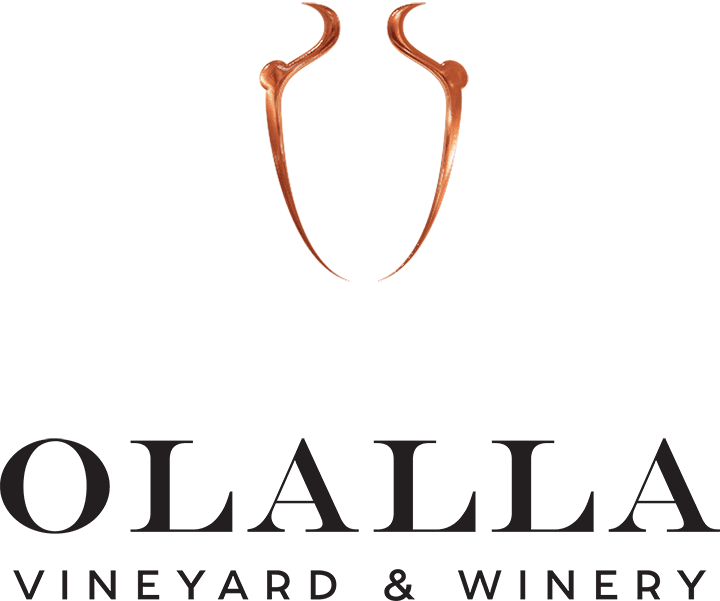 Tasting Room Hours*
​
Wednesday, Thursday, and Saturday 12-6PM
Sunday 1-5pm
Fridays 3-9PM live music in the vineyard typically from 6:30-8:30pm. be sure to check each event for performance times.
Tastings on Fridays are from 3-5PM
Closed Monday and Tuesday
The Tasting Room will be closed during pre-booked private functions and events. Check our Calendar of Events for current information.
​
TOURS BY APPOINTMENT ONLY (PURCHASE OF WINE IS APPRECIATED)